Analyse und Visualisierung Ihrer Daten auf unserer IoT-Plattform.
Analyse und Verwaltung Ihrer Daten leicht gemacht
Sie sind es leid, zahlreiche Apps zur Analyse und Verwaltung Ihrer Daten zu nutzen?
Dann entscheiden Sie sich jetzt zur Anbindung Ihrer Sensoren an das LoRaWAN®-Funknetz der Netze BW und erhalten Sie mit der Bestellung von Konnektivität zusätzlich einen Zugang zu unserer IoT-Plattform. Diese vollintegrierte Plattform bündelt die Komponenten unseres LoRaWAN®-Funknetzes und umfangreiche Funktionen zum Management von Datenströmen, Regeln und Alarmen. Somit können Sie die Daten für Ihre LoRaWAN® Anwendungsfälle mit nur einer Plattform einfach und schnell analysieren und verwalten.
Setzen Sie mit uns Ihre IoT-Ziele um und machen Sie Ihr Zuhause, Ihren Betrieb oder Ihre Kommune smart!
Laden Sie sich jetzt eine kurze Anleitung zur Einführung in die IoT-Plattform herunter.
Erste Einblicke in die IoT-Plattform
Die Startseite nach dem Login
Mit Auswahl der Mandanten-Kachel kommen Sie auf das Mandanten-Dashboard.
Das Mandanten-Dashboard mit Anzahl aller angelegten Geräte und Benutzer.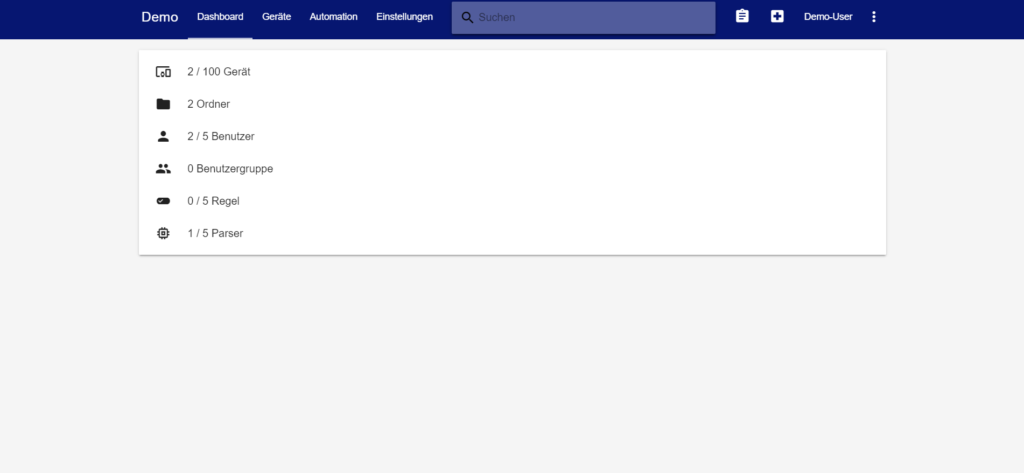 Die Übersicht aller Ordner mit gesamter Paketstatistik aller Geräte
Die Übersicht aller Geräte in einem Ordner
Kompatible Parser für Ihre Sensoren auf der IoT-Plattform
Unser IoT-Portal stellt jedem Benutzer derzeit rund 400 Geräteparser kostenfrei zur Verfügung. Darüber hinaus kommen wöchentlich ca. 2-3 Gerätetypen dazu. Parser werden in dem IoT-Portal in der Programmier­sprache Elixir entwickelt und bereitgestellt. Jeder Benutzer kann außerdem auch eigene Parser entwickeln oder eigene Varianten erstellen.
abeeway Industrial Tracker
Adeunis ARF8046
Adeunis ARF8123AA Field Test Device (FTD)
Adeunis ARF8170BA
Adeunis ARF8180 Temperature Sensors
Adeunis ARF8180
Adeunis ARF8200AA Analog PWR
Adeunis ARF8230AA
Adeunis ARF8230
Adeunis ARF8240
Arad MODBUS
Ascoel CO868LR / TH868LR
Ascoel CM868LRTH Door/Window sensor
Ascoel CM868LR Magnet Contact
Ascoel IT868LR Pyroelectric Motion Detector
ATIM Metering and Dry Contact DIND160/80/88/44
Axioma Qalcosonic F1 – 24h mode (orHoneywell Elster)
Axioma Qalcosonic W1 – Current and last 15 hours (Honeywell Elster)
BARANI DESIGN MeteoHelix
BARANI DESIGN MeteoWind IoT
BESA M-BUS-1
Binando Binsonic
BOSCH Parking Sensor
BOSCH Traci
Cayenne LPP Protocol
Clevabit Protocol (DEOS SAM CO2 Ampel)
Clevercity Greenbox
Comtac E1310 DALI Bridge
Comtac E1323-MS3
Comtac E1332 LPN Modbus Energy Monitoring Bridge
Comtac E1360-MS3
Comtac E1374
Comtac KLAX
Comtac KLAX Modbus
Comtac KLAX SML
Comtac LPN CM1
Comtac LPN CM4
Comtac LPN DI
Comtac LPN Modbus easy
Comtac Modbus Bridge Template
Comtac TSM (Trafo Station Monitor)
conbee HybridTag L300
de-build.net POWER Gmbh – LoRa Protocol
DECENTLAB DL-MBX-001/002/003 Ultrasonic Distance Sensor
DECENTLAB DL-PR26 Pressure Sensor
Decentlab DL-TRS12 Soil Moisture
Diehl HRLGc G3 Water Meter
Diehl OMS
DigitalMatter Oyster GPS
Dragino LAQ4 Air Quality Sensor
Dragino distance sensor
Dragino LDS01 Door Sensor
Dragino LGT-92 LoRaWAN GPS Tracker
Dragino LHT65
Dragino LLMS01 Leaf Moisture
Dragino LSE01 Soil Sensor
Dragino LSN50
Dragino LSNOK01 Soil Fertility Nutrient
Dragino LSPH01 Soil PH Sensor
Dragino LT22222-L I/O Controller
Dragino LWL01 Water Leak Sensor
DZG Node
DZG Node
DZG Loramod V2
DZG loramod
Eastron SDM630MCT Electricity Meter
EasyMeter ESYS LR10 LoRaWAN adapter
eBZ electricity meter
eBZ electricity meter v2
Elsys Multiparser
Elvaco CMa11L indoor sensor
Elvaco CMi41X0 Mbus
Fleximodo GOSPACE Parking
Fludia FM430
Globalsat ls11xp indoor climate monitor
GlobalSat GPS Tracker
Gupsy temperature and humidity sensor
GWF LoRaWAN module for GWF metering units
Holley E-Meter
Imbuildings People Counter
IMST WMBus Bridge
Innotas LoRa Pulse
Innotas LoRa EHKV
Innotas LoRa Water Meter
Integra Calec ST 3 Meter
Integra Topas Sonic Water Meter
InterAct – IOT Controller
Itron Cyble5
Keller
Kerlink Wanesy Wave
Lancier Pipesense
Libelium Smart Devices All in One
Libelium Smart Agriculture
Libelium Smart Cities
Libelium Smart Environment
Libelium Smart Parking
Libelium Smart Water
Libelium Smart Agriculture Pro
Libelium Smart City Pro
Libelium Smart Water Xtreme
Lobaro Environmental Sensor
Lobaro GPS Tracker
Lobaro Modbus Bridge v1.0
Lobaro Oscar smart waste ultrasonic sensor
Lobaro Oskar v2
Lobaro Pressure Sensor 26D
Lobaro WMBus Bridge
LPP Cayenne
MCF88 Multiparser
MClimate Vicky
Milesight AM300 Series
Milesight and Ursalink EM300
Milesight and Ursalink UC11xx
MIROMICO FMLR IoT Button
Mutelcor MTC-PB01 / MTC-CO2-01 / MTC-XX-MH01 / MTC-XX-CF01
NAS ACM CM3010
NAS CM3020
NAS CM3030 Cyble Module
NAS CM3060 BK-G Pulse Reader
NAS PULSER BK-G CM3061
NAS Luminaire v0.6
NAS Luminaire v1.0
NAS UM30x3 Pulse+Analog Reader
NetOp Multiparser
Netvox Multiparser
Nexelec D678C Insafe+ Carbon, Temperature and Humidity
NKE Watteco – Eolane Bob Assistant
NKE Watteco Clos'O
NKE Watteco IN'O
NKE Watteco Intens'O
NKE Watteco Remote Temp
NKE Watteco Pulse Sens'O
NKE Watteco Smart Plug
OXON – Oxobutton Q
Parametric PCR2 People Counter Radar
Parametric TCR Radar Traffic Counter
PaulWegener Datenlogger ASCII
PaulWegener Datenlogger BINARY
Pepperl+Fuchs WILSEN.sonic.level
PNI PlacePod parking sensor
RAK Button
RFI Remote Power Switch
Sagemcom Siconia
SEBA SlimCom IoT-LR for Dipper Datensammler
SenseCAP
Sensative Strips Comfort
Sensingslabs Multisensor
Sensinglabs SenLab LED
Sensoco Loomair
SensoNeo Quatro Sensor
SensoNeo Single Sensor
Sentinum APOLLON-Q
Sentinum FEBRIS
Skysense SKYAGR1
SLOC Multiparser
Smilio Action v2
SoilNet LoRa (Jülich Forschungszentrum)
Sontex Supercal/Superstatic
Speedfreak_v4
Strega Smart Valve
Swisscom LPN Multisense
Swisslogix/YMATRON SLX-1307
Tecyard Multiparser
Tecyard RattenSchockSender
Tekelek 766 RF
TEKTELIC Agriculture
Tektelic Industrial GPS Asset Tracker
Tektelic Kona home sensor
Tektelic Smart Home Sensor
TENEO CO2 Ampel
Terabee Level Monitoring XL
Tetraedre
TrackNet Tabs
UIT-GmbH WR-iot-compact water level sensor
Ursalink AM100/102 and Milesight AM104/AM107
Ursalink UC11-T1 Temperature
VEGAPULS Air 41 and 42
Xignal Mouse/Rat Trap
Xter Connect people counter
yabby GPS tracker
Yokogawa Sushi Sensor
ZENNER Smoke Detector D1722
ZENNER T&H Sensor D1801
ZENNER Water Meter
ZENNER IoT Oskar v2 smart waste ultrasonic sensor
ZIS Oskar 1.0
ZIS DigitalInputSurveillance 8
ZRI Simple EDC and PDC
ZRI Simple EDC and PDC
ZRI Simple EDC and PDC
ZENNER Water Meters
ZENNER Multiparser (EDC, EHKV, PDC and WMZ)
ZRI CO2
Prüfen Sie jetzt, ob an Ihrem Standort LoRaWAN®-Netzabdeckung vorliegt und sichern Sie sich ganz einfach online Konnektivität für Ihre Sensoren.
LoRaWAN® und LoRa® sind Marken, die unter Lizenz der LoRa Alliance® verwendet werden.